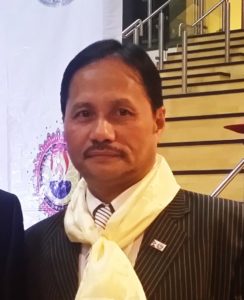 President will be on holiday from 21st Nov to 20th Dec 2021.
Dear all DS UK Executive Committee members, good evening & namaste!
Hope, all are in good health & keeping warm to yourself & the family. I also believe, everybody had the fantastic Dashain & Tihar with your loved ones & with extended family members.
Meantime, I would like to take this opportunity to inform you all that I will be heading to Nepal on 21st Nov 2021 for the period of 4 weeks. Therefore, during my absence from 21st Nov to 20th Dec 2021, I would like to handover the duties & responsibilities of DS UK President to Senior Vice President Mr.Ramesh Limbu until I return from Nepal.
Please refer any matter to Senior VP Mr. Ramesh Limbu during this period.
Thank you all for your kind understanding & the cooperation.
Kiran K. Subba
President
DS UK
(07401772266)
Dear all Dharanbasi Daju/bhai, Didi/baini haru, Senior Citizens & all the Children,
on behalf of Dharan Samaj UK, may I take this opportunity to wish you all a very Happy & Prosperous New Year 2021. Undoubtedly, year 2020 had been a very difficult & challenging year for all of us amid the Covid-19 pandemic and am glad that we all pulled through so far but the fear of pandemic still there. Nevertheless, there are good news of Covid-19 vaccines which are now approve & people are being vaccinated as prioritised by the UK government. So, let's hope for the good & remain optimistic for year 2021 and I shall look forward to meet you all as soon as the current situation start to become normal. One more time, I along with my colleagues wishing you & your family a Safe, Healthy & Prosperous New Year 2021 … Jai Dharan Samaj UK!!!

Thank you & Namaste,

Kiran K. Subba (President)
and all Committee members
Dharan Samaj UK.
Dear Respected all DUSK Executive Committee Members
DHARAN SAMAJ UK (DSUK)
Date: 08 June 2020
Dear all the DSUK members
Ref: Dharan Bhela 13 June 2020
I hope all are in good health.
On behalf of the DSUK President Kiran Subba and the Executive Committee Body, may I kindly inform to all our DSUK members and "Dharanay" living in the UK that the Dharan Bhela of 2020 will be cancelled due to Coronavirus Pandemic which we all are aware of it.
We would like to apologise that the newly form DSUK Executive Committee Body (14 March 2020) had a minimum communication between ourselves and to the members due to this unprecedent situation we are facing due to COVID-19 disease and the UK being one of the most affected in the world.
Due to this all our members have been concentrating locally (place where we live) to be safe from this COVID-19, even though all our members are sparsely located around the UK. This situation has definitely given us difficulties in communication and planning of DSUK events and programs for this year 2020.
Once more, on behalf of the Executive Committee Body and the President our deepest thoughts and prayers are with the members and their families who have suffered and is suffering because of COVID 19 diseases.
Please forgive us that if as a community we may not have managed to reach you during this challenging period due to COVID-19 diseases. This is due to the nature of our DSUK community as it is difficult to be viable locally.
There is a saying, 'it's never too late to start' so if any of the DSUK members or "Dharanay" living in the UK would like any assistance during this Pandemic, please do not hesitate to contact us on the following number and we will try our best to assist as a community:
President: Kiran Subba – 07401 772266
S. Vice President: Ramesh Limbu – 07578 686183
Vice Gen Secretary:Jiwan Rana Magar – 07411 415604
As, this Pandemic settles down and the UK governments produces further plans and actions, we will definitely discuss with you all on the plans of the DSUK future program accordingly.
Please stay safe and healthy and kindly follow the governments guidelines during this difficult time.
Thank you all for considering this message.
Kind regards
Maha Rai
07733 455320
General Secretary, DSUK.
Message from President & Sports IC,
Budha Subba Gold Cup 2019.
Dear all,

I and all committee members would like to thank all organisations, community, football fans and those who participated for Budha Subba Gold Cup on 07 September 2019, Saturday. There is no doubt that without your help, support and commitment, the day would not have been successful.

Budha Subba Gold Cup is one of the famous tournament in dharan run by Dharan Football Club, which is now well recognised nationally too. And our aim of holding annual BSGC is feel closure to Dharan and of course encourage sports.

I would also like to highlight that BSGC event has been fully sponsored by our kind donors, which we are absolutely grateful for.

Lastly I would like to say thank you to everyone who worked tirelessly through out the day to make this event successful.
Jay Dharan!!!

Thank you,
Surya Gurung
President DSUK
dharansamajuk.org

Dear all,

I would like to thank each and every individual from the bottom of my heart for making this year's Budha Subba Cup a huge success. Highly appreciate everyone's effort and team work who contributed and sponsored for the trophies. Massive Thank you to all our didi bahinis from Phulbari Canteen for your excellent service. Thank you once again everyone.

Kind regards
Nirmal Gurung
DSUK
Sports secretary
Messages from President
Dharane Bhela 2019.
Dear all,
I would like to thank you all for your tremendous hard work in organising Dharane Bhela 2019 and to our wonderful, supportive guest for taking time out from their busy schedule. It was a great pleasure to see you all on our Annual Dharane Bhela held at Feltham, UK. The number of turnouts this year has been extremely overwhelming, given there were number of events held on the same day.
Especial thanks to our Volunteers working on stage decoration, sound arrangements, food and drink station and ticket checks to ensure smooth flow of the event and also special thanks to sponsors and performers for adding event entertaining and engaging.
Lastly, whilst everyone has extremely hard for the event, hope you all had great fun and enjoyed the day too.
Jai Dharan!!!
With regards,
Surya Gurung
President of DSUK
dharansamajuk.org
Messages from President & Sport IC
[ 04 September 2018 11:01 ]
Dear all,
I would like to thank everyone from the bottom of my heart for making 7th Budhasubba Cup successful. Especial thanks to Dhurba Dai & Lata baini for providing refreshments for all the players and also Dd baini from Phulbari restaurant. Once again, thank you all. Jay Dharan!
Kind regards
Nirmal Gurung
[ 04 September 2018 12:11 ]
Dear all,
Thank you Nirmal for your hard work and appreciation.
Like Nirmal, I would like to thank everyone who supported 7th BSGC 2018, special thank you to our kind donors. This tournament runs from the generosity of donors since we started, hope we will continue to support this until it makes its own mark…which I know, it will one day.
I would like to thank Lata, Chanda, Indu and Dhurba dai who provided refreshment, foods and drinks with no costs to Samajh.
Big thank you to Phulbari Canteen run by Rehana, Shashi, Laxmi, Kamala and Sunita at their own expense and all the money raised was donated to BSGC.
Lastly I would like to thank you Bikash Bhanja for his hard work throughout the day.
Once again thank you to all our well wishers and friends who has helped us directly and indirectly to pull this event together.
Jai Dharane!!!
Kind regards,
Surya Gurung.
dharansamajuk.org