BS Gold Cup 2022, thank from President !
Dear all Dharanbasi dajubhai, didibaini haru … Namaste & Good morning!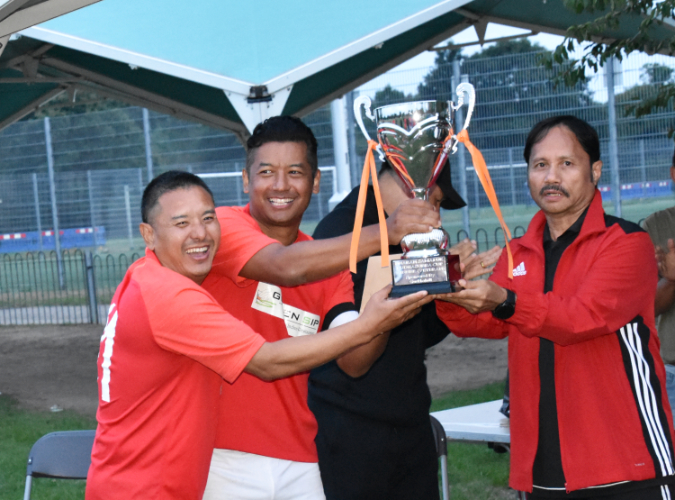 Once again I take this opportunity to say "Thank You" to you all as I am pleased to inform you that Dharan Samaj UK had successfully organised & concluded the 9th Budha Subba Gold Cup yesterday at Tudor Park Sports & Leisure Centre in Feltham London without any problem.

Of course, without the support & generous contribution by our members this tournament wouldn't have been so successful. To make it a successful, one more time I Thank You to each & every individual including my committee members, Tournament Coordinator Raju Limbu, Sports Sec. Paras Rana, all Volunteers, Advisors, match officials, all ladies specially from Swindon, all the teams, spectators, medics & last not the least our Prize Sponsors & Donors. You all are fantastic human being.

Meantime, special mention also goes out to our two distinguished guests: Mr Ganga psd Rai & Mr. Sanjog Pariyar who were not just the guests of honor for us but also put the uniform 'On' and did their little foot skill in the field on behalf of DS UK. Please note, both of them are legendary footballers in their heyday & pride of Dharan. DS UK also would like to express sincere gratitude to them.

At the very last note: DS UK will have Post Budha Subba Gold Cup meeting & General Convention at Buckhurst Park Community Centre in Swindon (SN3 3BS) on 11th Sep 2022 frm 1 pm onward. I kindly request to those who are available please come and attend the meeting. This is a very important meeting and we also duscuss about the Mayor Harka Sampang"s campaign to end the Drinking Water crisis in Dharan. Our advisor Raju Limbu further explain & disclose any information that he had from Mayor Harka Sampang.
Thats all for now & looking forward to see you guys soon!

Jai Dharan Samaj UK!!!

Kiran K. Subba
President
DS UK